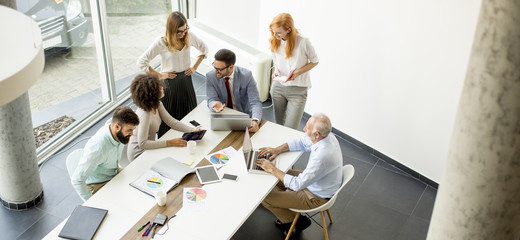 Let's get started.
Get started by gathering and organizing important information that will help you (or a broker) find the best plans for your business.
Basic Business Information
As you prepare to shop for health plans, it's important to have basic information about your business organized and readily available—you'll undoubtedly be asked for these details at various stages in the process. If you're using a broker or agent, ask if they have any checklists or standard forms outlining the information they need. If not, here's a list of fairly standard business data that you should have at the ready:
Employer name.
The street address of your business, not a PO box.
The list of employees you plan to cover.
Tax identification or employer identification number.
Business background. Depending on the size of your business, you may have to provide:

Date your business started.
Payroll records.
Standard Industry Code (SIC or NAIC), telling the insurer what industry you're in.
Employee Census
Insurers use an "employee census" to obtain specific information to estimate the health care costs your group is likely to incur. Federal law limits the types of information that the insurer can request and the ways that information can be used in determining your premium.
A census does not include health status, race, religion, sexual orientation (even if applying for domestic partner benefits), Social Security number, or U.S. citizenship/immigration status.
In order to provide you with a rate quote, insurers will ask you to complete a census form that requires the following information for each of your employees:
Name
Age or date of birth
Number of dependents
ZIP code
Schedule
There are a couple of scheduling details you'll need to nail down early in the process of shopping for a plan. These include choosing an effective date of coverage and deciding what plan cycle will work best for your business.
When choosing an effective date of coverage, look for a date that is at least six weeks but no more than three months away. This way, (1) quotes won't go out of date, and (2) you'll have time to complete all the administrative steps needed to start coverage.
As for what time of the month to start coverage, most employers choose the first of the month. Although many plans operate on a calendar-year basis (January through December), most businesses operate on a different 12-month cycle or have specific busy seasons during which you won't want to deal with insurance issues. When you are thinking about introducing health insurance for your employees, ask yourself, "Is any time better than another?" Insurers generally allow you to pick your renewal date to suit your convenience.
Budget and Cash Flow
Before you start shopping, you should figure out how much money you're willing and able to spend for group coverage. You should estimate this in a couple different ways:
Percentage of payroll. Calculate an amount as a percentage of your total monthly and annual payroll that you could spend on group coverage.
Per employee per month. Calculate how much you could spend per employee per month. Come up with a bottom-line maximum figure, without worrying about any variables such as employee contributions or dependent coverage. Based on your budget, you'll figure out those variables later.
Cash flow issues are also important to consider when sponsoring group medical coverage. Keep the following cash flow issues in mind:
Monthly premium commitment.

Most insurers require you to pay the monthly premium by the first of the coverage month. This means you would pay for April coverage on April 1, May coverage on May 1, and so on. If you are buying coverage for the first time or replacing existing coverage, the insurer will likely ask for a month's premium in advance.
Grace period.

Most insurers offer a 30-day grace period for paying premiums. So, even if you pay a few days late, your group insurance plan will most likely not be cancelled. You may want to inquire about your insurer's grace period and notification policy regarding cancellation.
Cancellation/reinstatement.

If you are regularly late with your payments, your insurer has the right to cancel your group insurance policy. Most insurers have procedures for reinstating policies that have been cancelled due to insufficient payment. You may want to ask about your insurer's rules regarding cancellation and reinstatement.
Premium increases.

Most premiums are renewed annually, which means that the insurer can adjust the premium once a year. Some plans, though, allow the insurer to increase premiums every six months. By law, the insurer must give you at least a 30-day notice of any proposed increase.
Need some assistance? Agents are available to assist you.