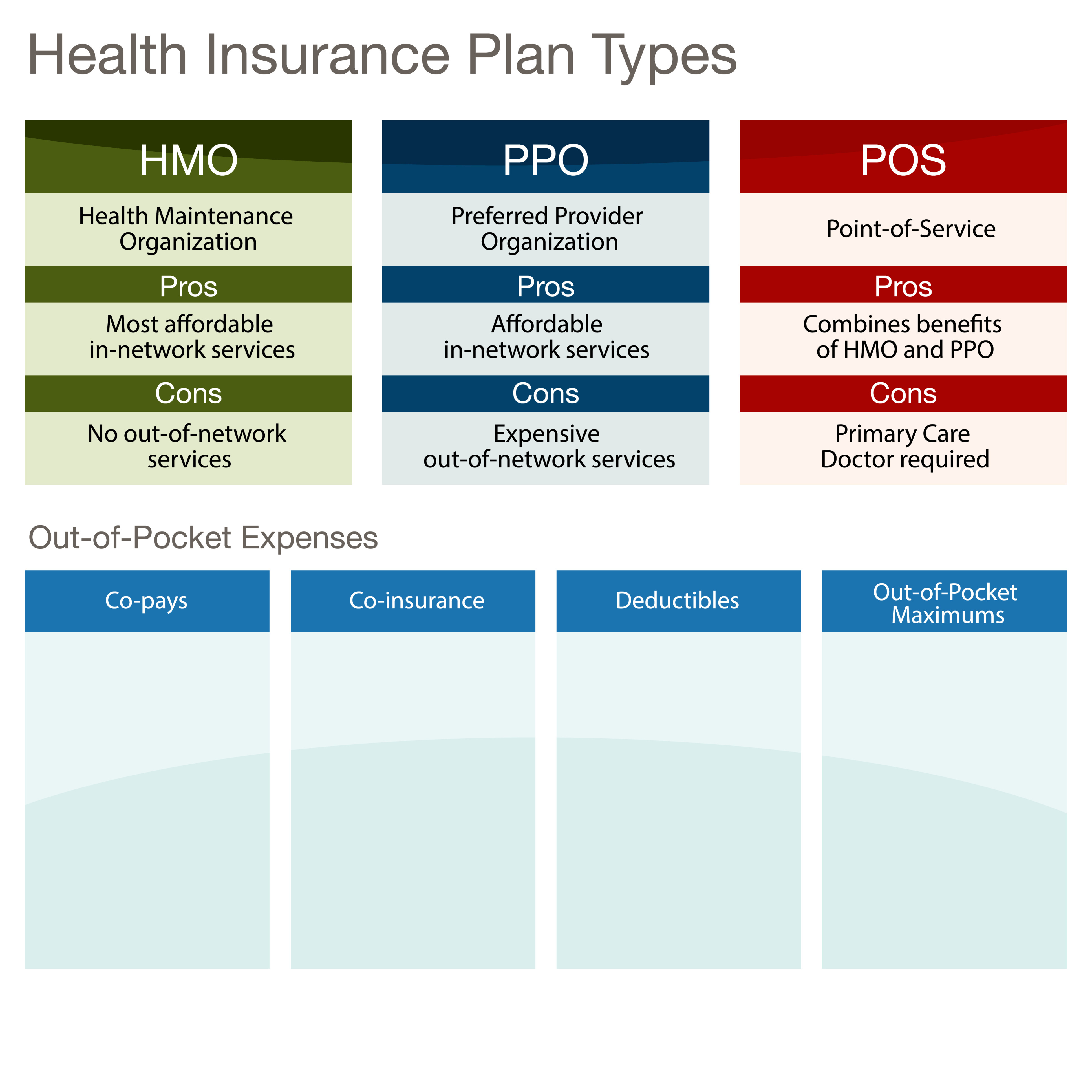 The most common form of health insurance today is known as managed care. Within the managed care umbrella, you'll find three types of plans — health maintenance organizations (HMOs), preferred provider organizations (PPOs), and point-of-service (POS) plans.
HMOs and PPOs are the most popular type of plans, but before the advent of managed care, fee-for-service plans (FFSs) were the standard form of health care coverage.
Fee-for-Service Plans
Fee-for-service plans (also known as indemnity plans) are the oldest form of health insurance coverage. These plans are the most expensive, but for those who can afford them, FFSs offer the most freedom and flexibility.
Participants choose their own doctors and hospitals, and can refer themselves to specialists with little interference from insurance companies. These plans require large out-of-pocket expenses. Patients pay medical fees up front and then submit bills for reimbursement.
Deductibles of up to $200 are typical. And preventive services such as annual checkups and pelvic examinations generally aren't covered.
Managed Care Plans
Managed care plans have become the dominant form of health coverage over the past several decades. The most common example of managed care is the closed health maintenance organization (HMO), which provides full reimbursement for services obtained within the network of approved doctors and hospitals.
Managed care companies have agreements with certain doctors, hospitals, and health care providers to offer a range of services to plan members at reduced cost. Essentially, financial incentives are used to discourage plan members from straying beyond the plan network.
Health Maintenance Organizations
HMOs are the oldest form of managed care plans, and typically the least expensive way to receive medical care. HMOs offer a broad range of health benefits, including preventive care, for a set monthly fee.
In exchange for low rates, HMO members give up the freedom to choose their own doctors, and must use doctors within the HMO network. Primary care physicians typically refer patients to doctors and specialists within the HMO network for different health care needs.
Preferred Provider Organizations
Typically, PPOs offer flexibility comparable to that of an FFS. A PPO has arrangements with doctors, hospitals, and other health care providers who have agreed to accept lower fees for their services from the insurer. As a result, cost sharing is lower for plan members within a PPO network. Network health care providers make referrals, but plan members can self-refer to doctors and specialists, including those outside the plan.
Participants who visit network doctors pay copayments, or set amounts for certain services; individuals who venture outside the network pay higher fees in the form of deductibles and copayments. PPO members are also required to make up the difference between what their personal provider charges and what the health care plan pays.
Point-of-Service Plans
Many HMOs offer an indemnity-type option known as a POS plan. Primary care doctors in POS plans usually refer patients to other providers in the plan, but members can refer themselves outside the plan and still get some coverage. If the doctor refers out of the network, the plan pays all or most of the bill. If POS members self-refer to doctors or specialists outside the network, they will have to pay a predetermined amount of coinsurance.