By Sterling Price Reviewed by licensed agent Brandy Law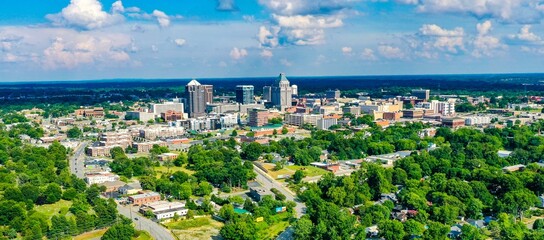 Updated
The cheapest health insurance plan in North Carolina is the Blue Advantage Silver 6300 (broad network). This was the cheapest plan in 45% of the state's counties. Alternatively, shoppers could find cheap insurance with the Blue Value Silver 6300 and Ambetter Balanced Care 29 plans.
Cheap health insurance policies in North Carolina can be purchased through the state's health insurance marketplace or through Medicaid if your household income is low enough to be eligible. It can also be purchased here.
Cheapest health insurance by metal tier
The average rate for health insurance in North Carolina is $521 for 2021 year plans. This is $31, or 6%, more expensive for a typical 40-year-old than the price was in 2020.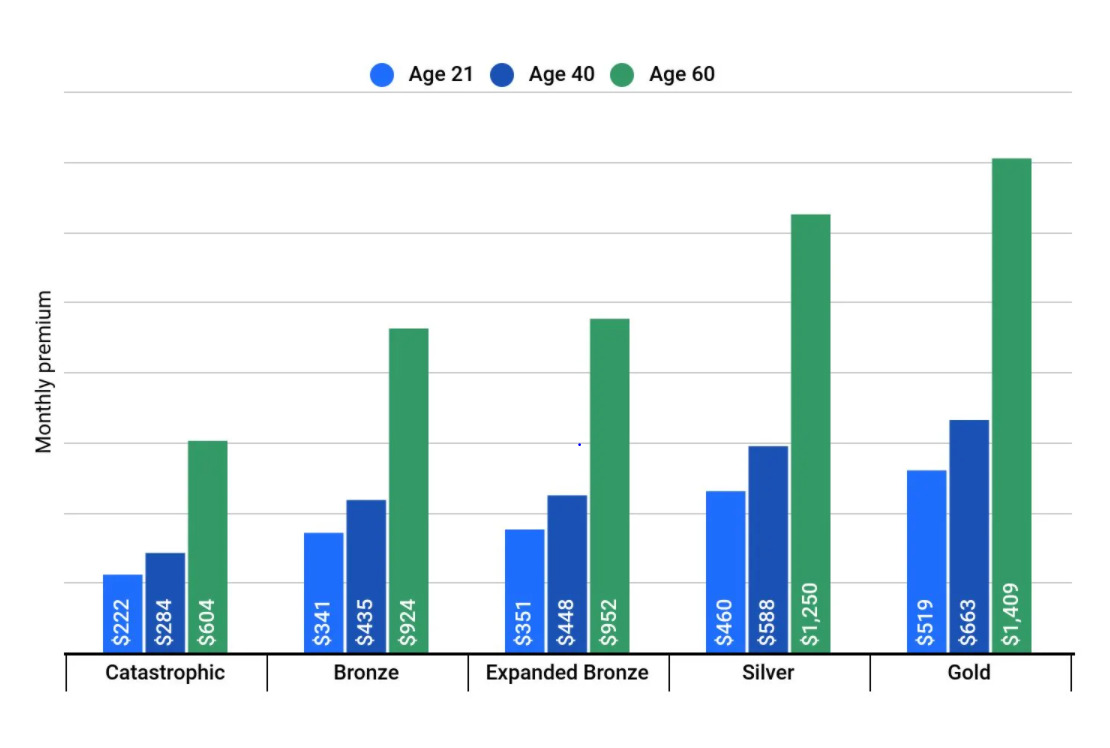 To help you find the most affordable health insurance rates for your desired level of coverage, we compared North Carolina policies by metal tier to determine the cheapest options available. While these plans aren't available in every county in the state, we recommend using them as a starting point to determine the benefits and costs you can expect for a given tier of coverage.
| | | | | Monthly cost for a 40-year-old |
| --- | --- | --- | --- | --- |
| Catastrophic | Catastrophic 3 $0 PCP Visits | $8,550 | $8,550 | $180 |
| Bronze | Blue Local Bronze 8550 (local network with Wake Forest Baptist Health) | $8,550 | $8,550 | $256 |
| Expanded Bronze | Bronze 8550 | $8,550 | $8,550 | $264 |
| Silver | Silver 5000 | $5,000 | $8,550 | $373 |
| Gold | Blue Local Gold 2500 (local network with Wake Forest Baptist Health) | $2,500 | $8,550 | $376 |
Higher metal tier plans, such as those in the Gold tier, typically come with lower deductibles and often have a lower out-of-pocket maximum expense. However, even the cheapest of these policies will have higher premiums than the lower level plans, so you should weigh the benefits against your actual rates when determining the best coverage. Silver plans are typically recommended as a balance between moderate premiums and out-of-pocket costs, such as deductibles and copays, though the best policy for you may differ depending on your income and expected medical expenses.
Within a metal tier, your actual health insurance premium will also vary according to the policy you choose, your age and the size of your family. As you can see below, a 40-year-old's health insurance rates are 28% higher than the cost of the same metal tier policy for a 21-year-old. And a 60-year-old's health insurance premium will be 112% more expensive than the average cost for a 40-year-old.
Finding your best health insurance coverage in North Carolina
The best health insurance plan for you will depend on your income level as well as your expected expenses. North Carolina hasn't expanded Medicaid under the Affordable Care Act, so this option will be limited to those whose income falls below the federal poverty level. If your income is greater than this limit, your best health insurance options will be on the North Carolina marketplace, and you may qualify for tax subsidies for coverage depending on your income.
North Carolina exchange health insurance plans are broken into metal tiers that represent different levels of premiums and out-of-pocket expenses. Higher metal tier plans typically have higher premiums but lower deductibles, copays and coinsurance, so you'll be responsible for a lower proportion of costs in the event you need to use your coverage.
These higher tier plans are recommended for those who have higher expected medical care needs. You should balance the cheap health insurance rates that come with lower tier plans, such as Bronze and Catastrophic policies, with the out-of-pocket costs you may need to pay if you need medical care.
Gold plans: Best for people with high expected medical costs
Gold plans are typically the best health insurance option if you expect to have large medical expenses. Though these policies have higher premiums, they also have lower out-of-pocket expenses, which means you'll have to pay less for each additional visit to a health care provider. When choosing the best Gold health insurance plan for yourself, make sure to consider the out-of-pocket costs for your routine prescriptions.
Silver plans: Best for people with average medical costs or low incomes
A Silver health insurance plan may be the cheapest option if you have a low household income, as these policies are eligible for additional cost-sharing reduction (CSR) subsidies. Silver plans are also a good middle-ground option for shoppers who expect to have some medical costs and can't easily afford the higher expenses of a Gold plan. These health insurance plans are cheaper but still have better benefits and lower out-of-pocket expenses than Bronze and Catastrophic plans.
Bronze and Catastrophic plans: Best for young, healthy people with low expected costs
Bronze and Catastrophic health insurance plans are the cheapest coverage options, but you may end up paying more if you have medical expenses, as the out-of-pocket costs are much higher. And Catastrophic plans are only available if you're under 30 or meet certain exemptions. You should carefully weigh your ability to cover an emergency medical cost before choosing one of these plans, because you'll need to meet a higher deductible before a policy's benefits will kick in.
So, if you have little savings or disposable income, a Silver plan may be the better choice, even though it comes with a higher monthly premium, unless you're confident you could meet a Bronze or Catastrophic plan's deductible. We typically recommend considering these health plans only if you're young and healthy and have emergency savings to cover the out-of-pocket expenses in the event that you need medical care.
Short-term health insurance in North Carolina
In North Carolina, short-term health insurance is available for purchase through off-exchange health insurance companies. Short-term policies are typically thin, as they may not cover the same essential benefits as Obamacare marketplace plans. Furthermore, this type of policy will often require you to undergo medical underwriting to be approved for coverage.
North Carolina currently does not restrict the length of short-term policies and follows federal regulations for these plans. These rules allow short-term health insurance plans to have coverage lengths of one year and be renewable for up to 36 months.
Best cheap health insurance companies in North Carolina
There are currently six health insurance companies on the North Carolina exchange. Though each company offers a variety of policies, you may be limited in the range of options available depending on where you live. The insurers available in North Carolina are:
Blue Cross and Blue Shield of NC
Bright Health
Cigna Healthcare
Ambetter of North Carolina
UnitedHealthcare
Oscar Health Plan of North Carolina, Inc
Cheapest health insurance plan by county
Where you live in North Carolina will determine the insurers and health insurance policies available. To help you with your search, we've found the cheapest Silver health insurance plans available on the state exchange in each county. You can see the policy with the best rates, as well as sample monthly premiums for different family sizes, below.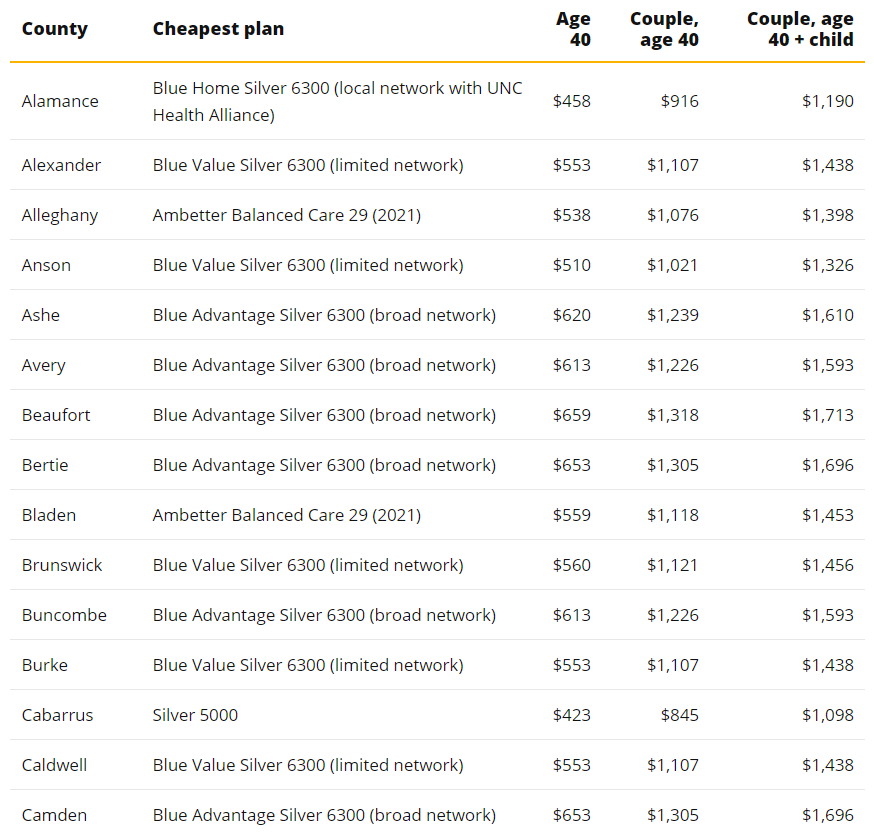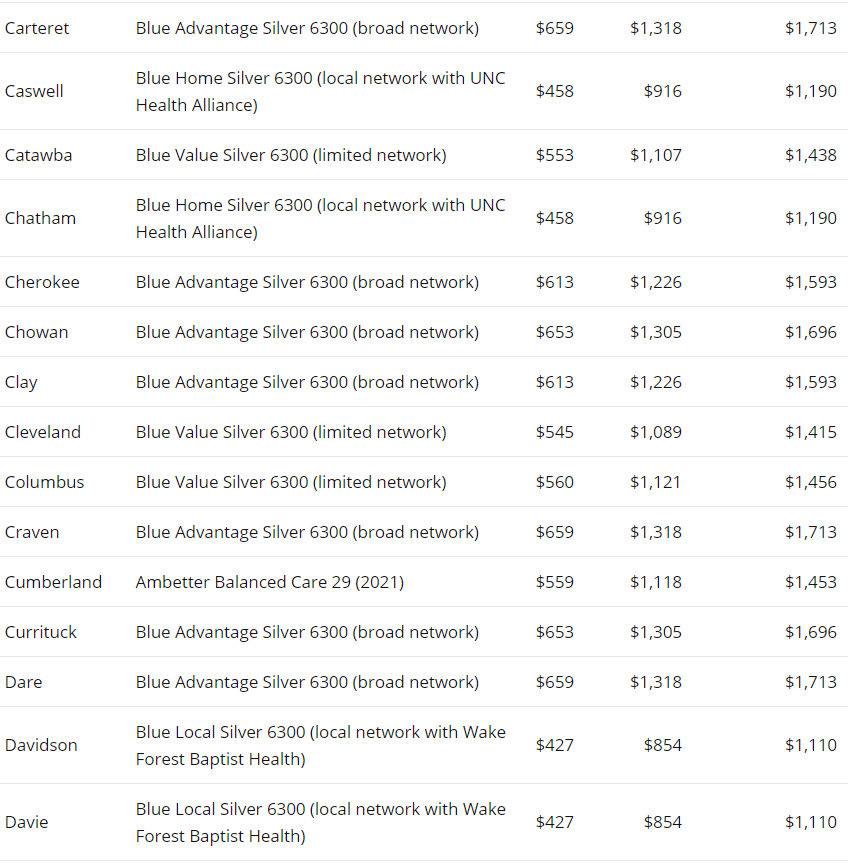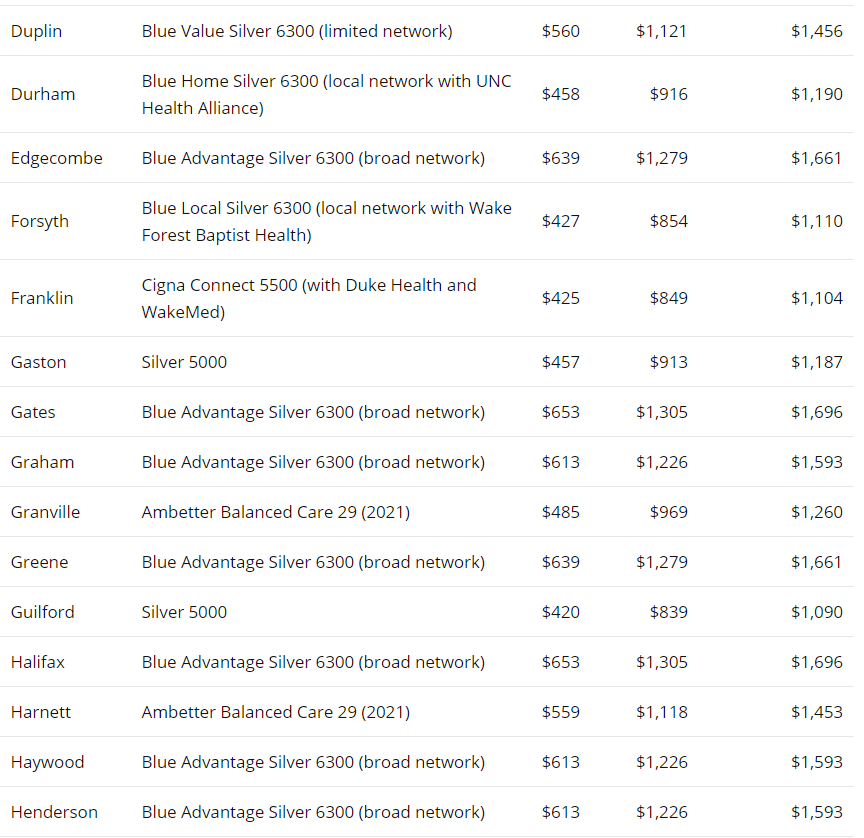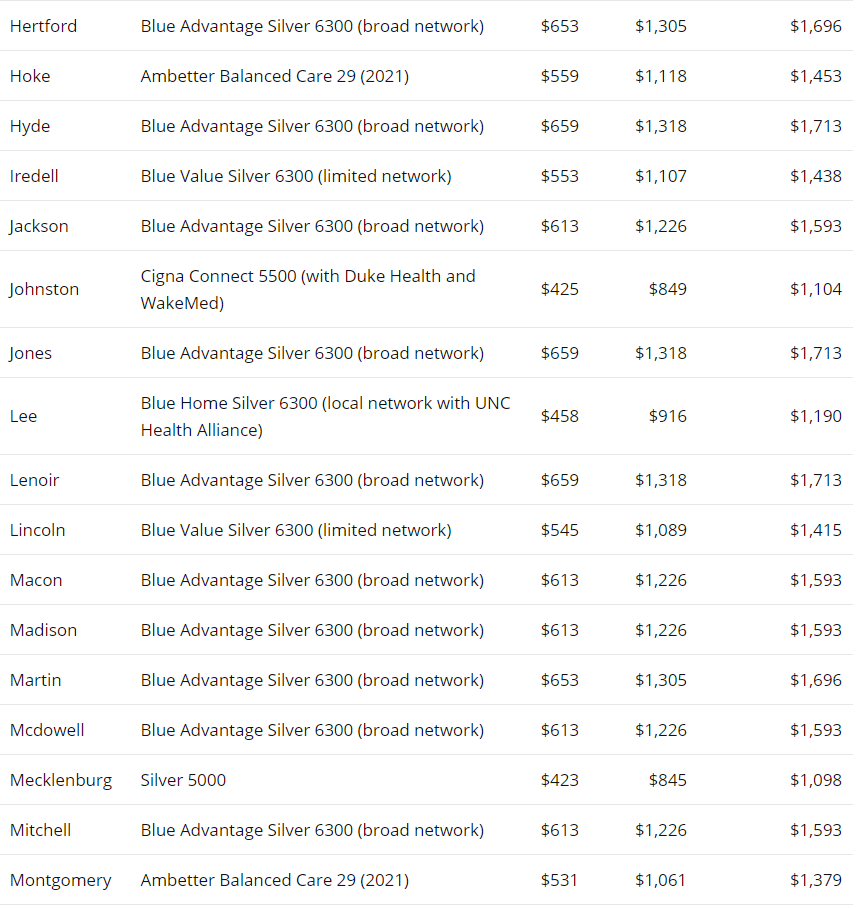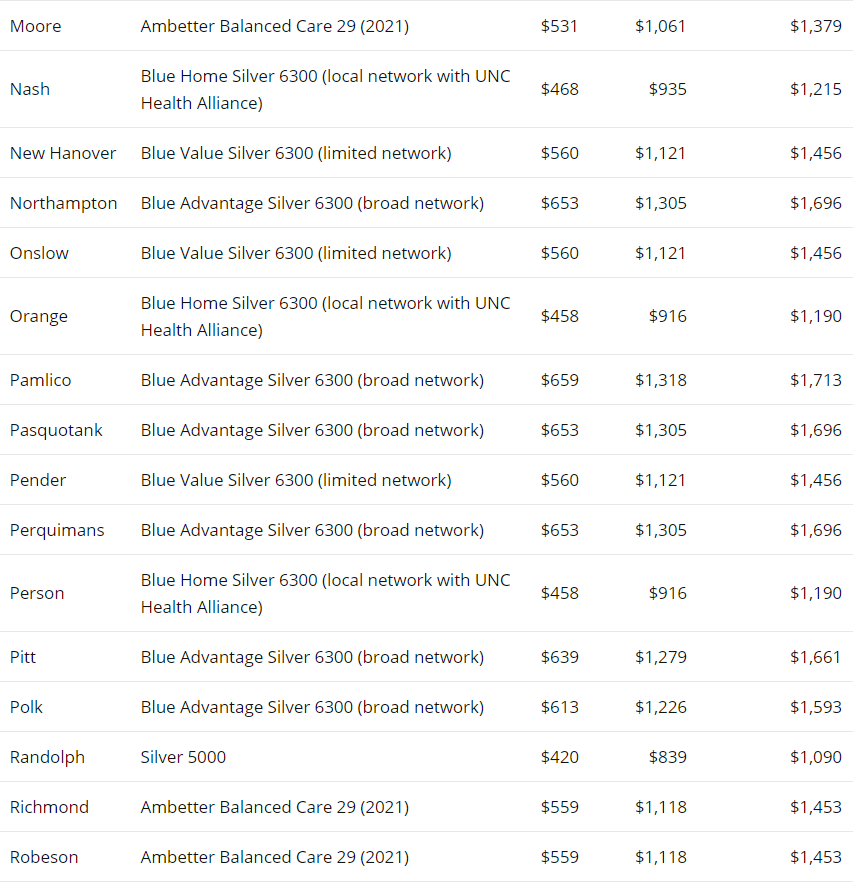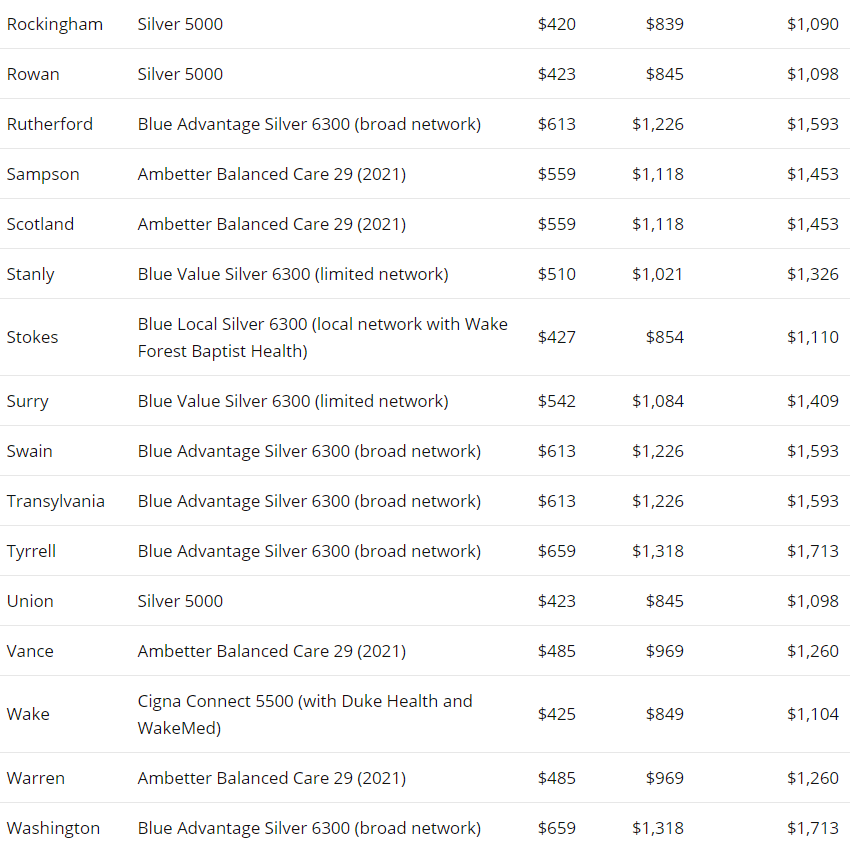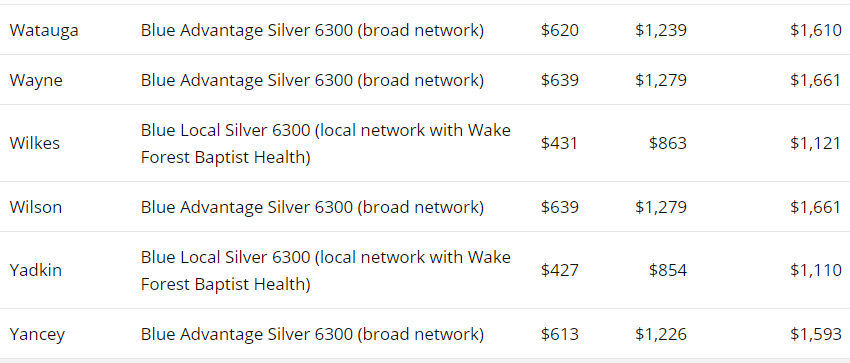 Average cost of health insurance by family size in North Carolina
Families in North Carolina will pay higher premiums for health insurance based upon the number of individuals covered and their age. Any children aged 14 and below will qualify for cheaper health insurance rates that remain flat until the child turns 15, after which the rates increase with age.
As you can see below, the average cost to add a child to a Silver health plan in North Carolina is $352. This is much cheaper than the average cost to add an adult to a health insurance plan, which increases premiums by an average of $588.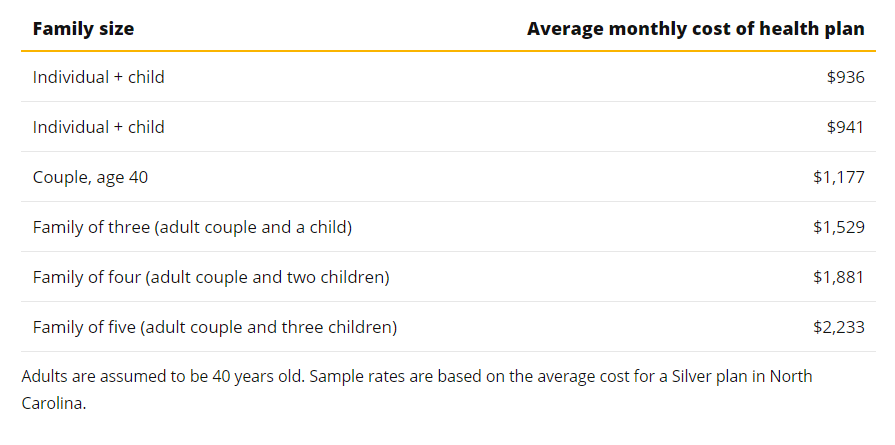 Health insurance rate changes in North Carolina
Premiums for health insurance policies are set by individual insurers in North Carolina. The proposed rates are sent to the health insurance marketplace for approval before being offered to residents.
The average cost of a health plan increased by 6% from 2020 to 2021 across all metal tiers. Individually, Bronze plans saw the largest cost increase in the last year: the cost of bronze health insurance rose by 4%. Catastrophic plans, another option with low deductibles, cost 3% more in 2021 than they did in 2020.

If you need assistance understanding what health plans are the best for you, agents are available.