Help Protect Your Income
Your income might be your most valuable asset – even more so than your house, car or money in savings. Yet people often don't take time to consider what would happen if they were sick or injured and unable to work, denying them of their paycheck. One way you can protect your income is with disability income
insurance. With disability insurance, you'll receive a monthly benefit, to replace a portion of their salary if you are sick or injured and are unable to work. Simply put, disability insurance provides the financial protection that helps you focus more on your recovery and less on how you'll cover expenses.
Mutual Income Solutions –
Benefits for You Let's take a look at the income protection solutions that Mutual Income SolutionsSM, disability income insurance from Mutual of Omaha Insurance Company, provides: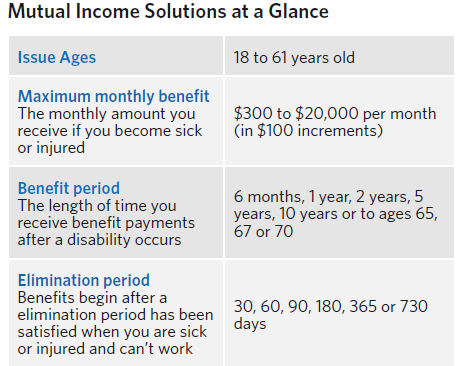 Optional No-Cost Benefits
Select one or both of these options:
• Automatic Increase Benefit – Automatically increases your monthly benefit by 4% each year
• Future Insurability Option – Increases your monthly benefit every three years after you buy the policy.
Optional Benefits at an Additional Cost
• True Regular Occupation - Extends the current occupation coverage for the length of the benefit period
and allows you to receive full monthly benefits if you're unable to work in your occupation and are currently working in a different occupation
• Enhanced Residual Disability – Pays a percentage of your total monthly benefit if you're partially disabled and provides a recovery benefit if you're still experiencing a loss of income after you return to work full time.
• Mental or Nervous and Substance Abuse Extension – Extends your mental or nervous disorders and substance abuse coverage for the length of the benefit period
• Return of Premium – Returns a portion (50% or 80%) of the premiums paid less claims paid every 10 years. This benefit is not allowed if AIB and/or FIO is selected.
Helping Protect a Growing Income
A married individual with three kids, with an annual income of$225,000. How much income could someone risk to lose by becoming sick or injured and being unable to work? As you can see from
the chart, the income potential over time can be impressive.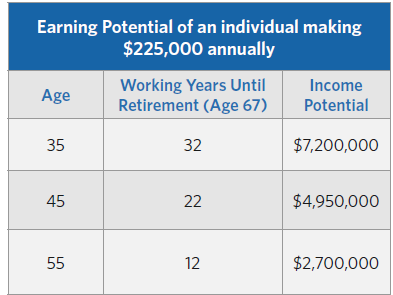 Contact us today to learn how we can help you protect your income.
E: tarek@ihealthagents.com - Telephone- Text