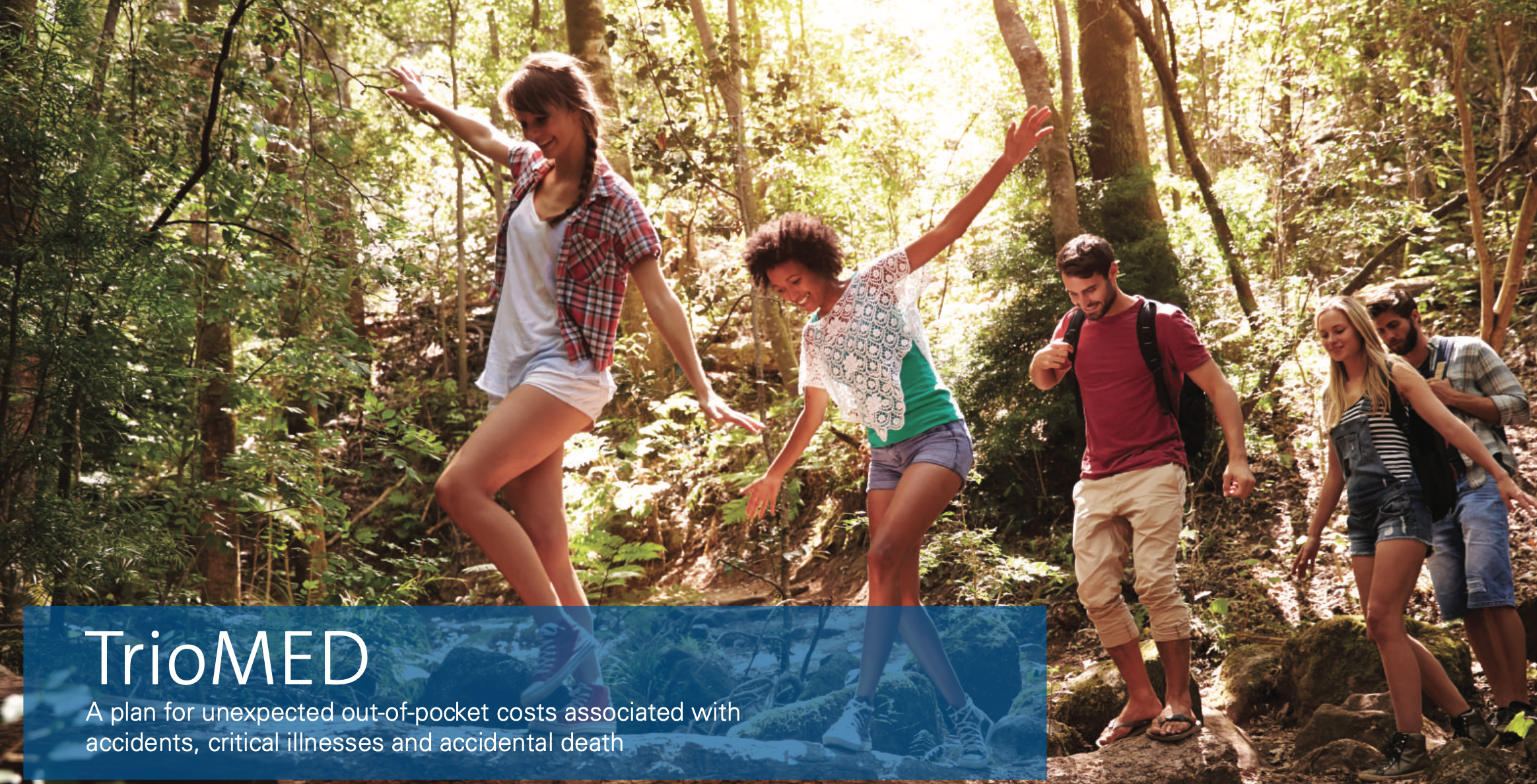 TrioMED from National General is a supplemental (usually low-cost) plan that can be added on to any primary insurance plan (including employer plans, individual health insurance plans, and short-term/catastrophic plans) that gives you a cash benefit to help pay unexpected expenses.

TrioMed provides benefits that help cover out-of-pocket costs associated with the things in life you can't plan for, like accidents, critical-illness diagnoses, and accidental death and dismemberments. It helps you get well without worrying about medical bills piling up.
It is especially helpful and recommended for high-deductible health plans and short-term plans: your deductible could be covered or mostly covered for a fraction of the cost of a lower-deductible or fully insured plan. You can sleep easy knowing that in the event the worst happens--you won't be on the hook for any unexpected expenses.
How Does It Work?
This coverage offers you a cash benefit in the event you experience accidents, critical illness, or accidental death or dismemberment. You have to meet a small deductible depending on the event, and then they give you money to cover your expenses. Most people use this to cover their deductible of their other plan, but you can use the money however you see fit: no strings attached, unlike normal insurance.

Choose one of three available, guaranteed-issue(meaning no health questionnaire or screening required) benefit levels: $2,500; $5,000 and $10,000.
$15,000 and $30,000 critical-illness benefit levels available with standard-issue coverage (Standard-issue plans require a health questionnaire)

How does Accident Medical Expense work?
Let's do some math.
The average cost of a fractured hip is $12,923.1 Now, let's assume you chose a $5,000 benefit level, and have a primary medical plan with a $5,000 deductible.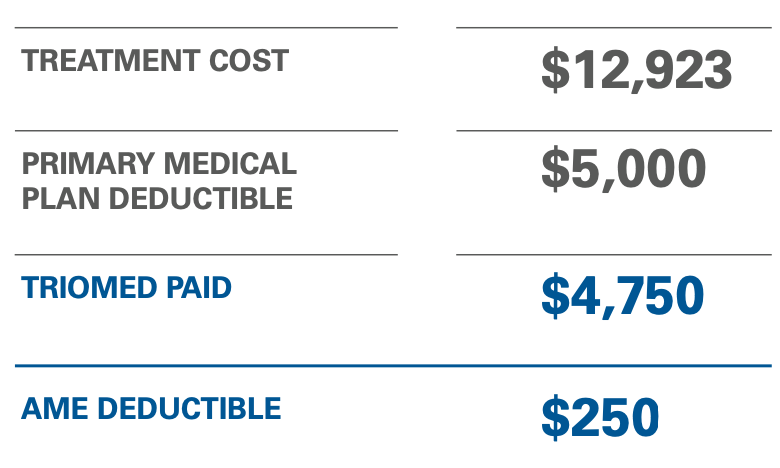 In this example, TrioMED would pay 95% of your primary medical plan's deductible!
How Does Critical Illness Coverage Work? What Does It Cover?
In the event of the first diagnosis of a critical illness, TrioMED will provide a lump-sum, cash benefit to help you pay your out-of-pocket expenses up to the benefit level you choose. If your medical bill is less than your chosen benefit level, you can use the leftover funds in any way you like.
This plan pays benefits for the first diagnosis of covered illnesses in three categories. It pays one cash benefit per category, with three lump-sum payments available.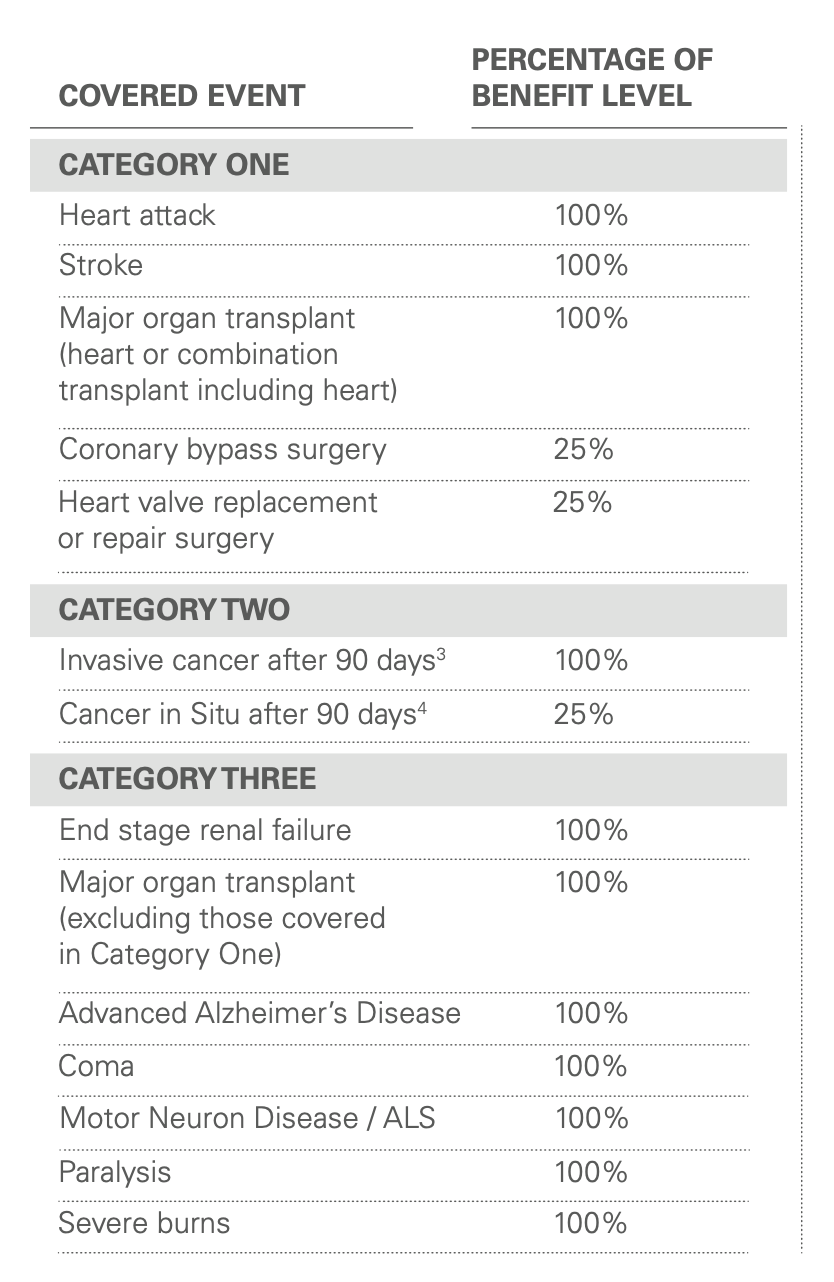 TrioMED AD&D

No one wants to think about the worst actually happening. But if it does, you want to make sure that you and the ones you love have the financial coverage needed to pay medical expenses. In the unfortunate event that an insured person suffers a dismembered limb or passes away due to a covered accident, TrioMED will pay the elected benefit amount based on the schedule of benefits.5